Guide to different types of travellers
Every journey starts with a feeling, a motivation, or a lack thereof.  Be as it may, a traveller is characterised by the type of feeling that one can feel inside when they hear the word 'tourism'. There those who take very seriously the idea of 'nothing but the clothes on your back', and take in their backpack on their bare necessities. Others, on the contrary, are so cautious that they cannot avoid filling their suitcase to bursting. Do you know which you are? Cast an eye to the follow 'guide to types of travellers to find out:
 The Backpacker
He starts his journey with a child's mindset, and a similar quantity of clothes, since this traveller is identified by his 'textile conformism' the minute he leaves his house. A pair of shoes, a pair of trousers and simple t-shirts are his favourite articles of clothing. The same with everything he can fit in his travel bag, and nothing more. His convenience is to move with his belongings where the wind may take him. Grab your backpack and come on a trip around Europe with us next summer. 
Profile: A young person, bothered little by fashion, nonconformist, simple.
---
The Committed Globetrotter
This type of travellers trips will be planned bearing in mind her environmental footprint and the respect of human rights in the destination country. She will incorporate some elements of volunteering or social development during her stay. Her travel fantasy is achieving an internal piece that is independent of her home town, so her favourite destinations will be those in which the culture is very different from her place of origin.
Profile: intrepid, solitary, committed to social causes, lover of nature and all things spiritual.
---
The Wandering Camera
You will identify these types of travellers because at a distance his reflex camera (or, lacking this, a selfie stick) will distinguish him as he goes taking photos of anything that seems interesting, seemingly concerned with nothing else. Monument, photo. Pretty lamppost, photo. Subway, photo. Tile floor, photo. Hamburger, photo. Furthermore, he is a person committed to social networks, so that with him you will never miss what you would otherwise forget, and will tell the whole world that you have gone on holiday. With him, you'll no doubt be robbed of a 'chilled' trip.
Profile: young, organised, clueless to the real world and focused on the virtual, a poser.
---
"Tired" of being a tourist
If you end with up with one of these types of travellers you are going to have to drag her out of the hotel every single day until the end of your trip. She prefers to go slowly and relax while drinking coffee rather than see all the important things, and if something is left to seen, just let it go; it probably isn't worth it. She can't stand queuing to enter a museum, go up a tower, or go into a church. She'll say it more than once: "In Spain this never happens".
Profile: Generally an adult, traditional, not very adventurous, forced to go travelling, lazy, "too good for this sort of thing".
---
The business traveller
This type of traveller is more privileged. He makes the same journey that you would in your free time, only with everything paid for and not an ounce of fun. His most frequented place in the country he travels to is the airport and the hotel in front of it, where he will have an important meeting and then head back home. This traveller can only catch a glimpse of important monuments if they are over 100 metres high, like the Eiffel Tower or the Empire State Building, since you can see them from a distance. Sometimes the take a selfie with said far-away monument to send to the family.
Profile: a businessperson, well-dressed, travels in a group that is also well-dressed, adult, (reasonably) wealthy, nonconformist to life.
---
The out-of-touch scrounger
To understand this type of traveller, you must put yourself in a very tough situation, and then imagine that you just got out of it. For this reason, this type of traveller is concerned with, no matter where she goes, enjoying the nightlife and the world of excess. Usually she prefers coastal Caribbean trips full of young people.
Profile: Recently graduated student, Erasmus, recently divorced, or a celebrity with a lot of free time and money.
---
The Conceptual Artist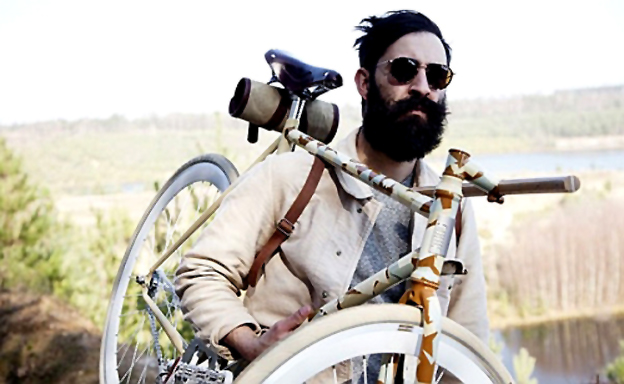 This type of traveller has the freedom to travel for artistic pleasure. Or, in other words, to fill his soul with the culture that one can find in exotic and far-off places. For him, it is about finding interesting routes of museums, exhibitions, fairs, and hidden bohemian corners. He takes photos of everyday things, like a cup of coffee or a bicycle. He also loves it when someone takes a photo of him observing a work of art.
Profile: generally male, graduate in the Fine Arts, frustrated artist, painter, alternative musician, art critic, hippy. Essential: long hair (or in a bun), hipster glasses and a button-up shirt.
---
The Sexplorer
Her intention is clear: to reach new horizons. Human horizons. Wherever she goes is a good occasion to conquer whomsoever passes in front of her; at a party, on a busy street, on the metro… any place is a good place to pull and find out how they do it far away from home.
Profile: young, but not too young…
---
The non-traveller
This is the one that stays at home, because something stops him from travelling. It might be an illness, work, or a dodgy alarm clock. While you are travelling, he spends the duration pissed off at the world and away from social networks that show him photos of those who actually are travellers. His idiocy will be remembered by his friends until the end.
Profile: clueless, unfortunate, slowpoke, loser
And now that you know the different types of travellers, don't delay in getting your ticket and setting off on a new adventure. You'll find out which category you belong to when you return.
Translated by Matt Thomas